Hmmmmmm this will need some modifying...




"Which one is Hikaru-kun game?!"

The rules are simple, guess which one is Hikaru and which is Kaoru.
Feel free to shout what you think the answer is.
We will try to get a new picture every Thursday.
The correct answer will also be announced the next new picture.
To keep from 'cheating', a coin will be tossed to determine which is Hikaru and Kaoru.
Picture of the week
______________________________
Last week's answer: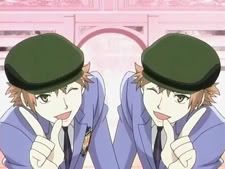 Hikaru and Kaoru